Real Estate Journalist David Thame explores why Manchester is a Property Hot-Spot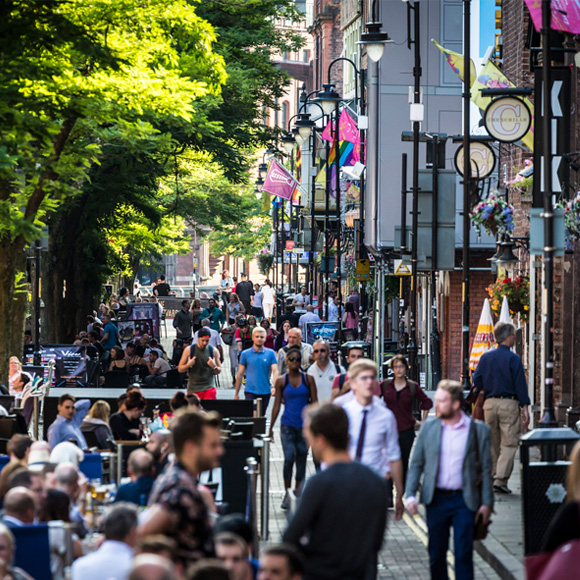 You don't have to look far to explain Manchester's reputation as a residential property hot-spot.
There's just one thing that turbo-charges a residential property market: a growing population. And Manchester's population is growing fast.
Figures from the government's Office for National Statistics (published June 2017) show the City of Manchester population at 541,000, up 2 per cent in just twelve months, and up 7 per cent since 2012.
Manchester City Council projects a further rise of 16 per cent by 2025 taking the population to 625,000. That's 84,000 extra people looking for homes. Many of them will be hoping to roost in the city centre whose population is expected to rise from 50,000 to around 80,000 by 2024. Two thirds of the city centre's population will be private renters.
City council projections also suggest that Manchester will exceed a target of 2,500 new homes per year by 2017/18, and the following year could be as much as 4,000 new homes – far higher than the circa 1,000 to 1,500 new homes per year delivered between 2010 and 2015.
The story gets better because not only are there more people looking for homes, but those people are getting wealthier.
The surge in housing demand comes as the city's economy turns in above-trend performances. The Manchester economy is forecast to expand by 2.3 per cent a year between 2017 and 2021 (compared to just 1.9 per cent in Leeds). Even if Brexit turbulence knocks the froth out of the market, above trend growth seems assured. The same is true of employment growth, forecast to rise by 4.5 per cent over the same period (more than double the projection for Leeds).
More housing demand from increasingly affluent residents? For developers, Manchester is no-brainer. The consensus is that the current city centre developer pipeline hovers around 7,000 units. There are ten residential schemes over 25 storeys at various stages of construction.
However, new homes take time to build, and the delay helps nudge prices up. Data from Hometrack – which embraces the suburbs as well as the city centre – suggests Manchester house prices rose 6.7 per cent in the last twelve months. This makes UK-wide growth of 4.7 per cent look sluggish.
Manchester house price growth generally out-performs the North West, where JLL predict 18.1 per cent cumulative uplift 2017-2022 and the latest data seems to prove it. City centre sale prices jumped by 15 per cent in 2016. JLL predict a more modest city centre price rise of 7 per cent in 2017 and suggest cumulative growth of 28.2 per cent by 2022.
These rate-of-growth figures are the numbers that matter for investors, whether buy-to-let newbies of the larger international operations. So far they've had no reason to complain about rising capital values whilst rental growth easily out-paces alternative investments. Once again, the data varies from consultancy to consultancy, but the trend line is clear: average rents are up 6.9 per cent in 2016, following an 8.5 per cent increase in 2015.
JLL report that at the end of 2016 average rents for one and two bedroom flats in the city centre were circa £875 a month and £1,100 a month. Better properties or those in high-demand blocks command rents from £1,100 to £1,600.
David Thame writes for Estates Gazette and the Manchester Evening News.