LUXURIOUS CITY CENTRE LIVNG – WITH A 5% DEPOSIT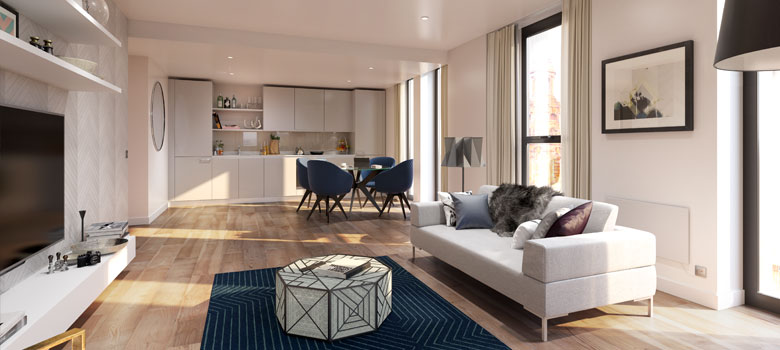 We at Manchester New Square believe that luxury shouldn't be exclusive.
We are proud of our design team which includes SimpsonHaugh architects, David Phillips interior design and Project Kitchens.
And we are proud to be working with our main contractor LendLease, which has vast global experience in delivering high quality schemes on time and on budget.
Manchester New Square will be the best new apartments in the city for at least a decade. We have left nothing to chance. Every tiny detail from 24 hour concierge (who will look after your every need), to underground secure parking, to light fittings, kitchen appliances, storage solutions, wall and floor finishes, and residents' lounge, has been poured over.
These large, luxury apartments will provide the highest standards of design and specification including SieMatic Kitchens.
As our first scheme in Manchester, we at Urban&Civic want you to be blown away by the quality of the design and finish. But we don't want you to be blown off course by price.
That's why we are delighted to announce that we are launching a 5% deposit campaign aimed at UK residents only.
Pay 5% now, 5% further down the line and the rest on completion, end of 2019. That gives you time to save your remaining deposit, invest and relax, whilst we get busy building your new home.
If you need convincing that Manchester is a good place to invest right now, please chat to our sales team at JLL on 0161 200 1669, read our blog written by Real Estate journalist David Thame, or just google it!
Manchester has a growing population, a growing economy and Manchester City Council predicts that 84,000 extra people will be looking for homes by 2025. Sounds as good a reason as any to bag your city centre apartment now. 40% already sold.
Visit our show apartment at 56 Princess Street to find out more.