Whitworth Locke ApartHotel Now Open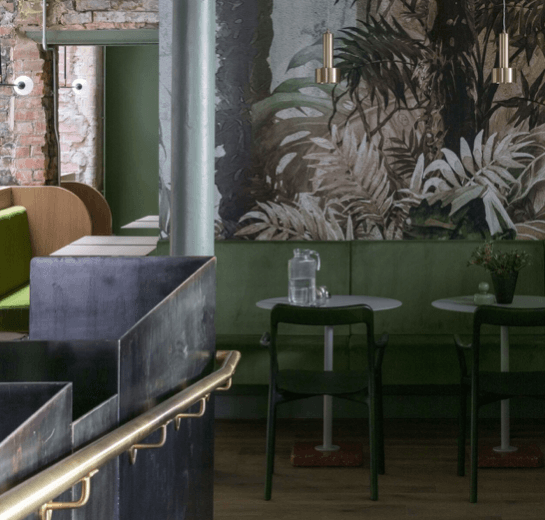 Locke Hotels has opened its flagship aparthotel opposite Manchester New Square and we were delighted to be given a tour and the inside track last week, ahead of an official opening early next month.
This aparthotel concept is the group's most ambitious venue to date. Housed on the corner of Whitworth Street and Princess Street, the 160-studio aparthotel, designed around a spectacular central glass atrium, includes a crossfit gym, an exclusive pop-up cocktail bar and immersive co-working spaces for both guests and city residents. Plus, it also houses a second Foundation Coffee House, which has expanded from its original home in the Northern Quarter.
Senior Sales Manager Craig comments, "Previously three former export mills, one Grade 2 Listed in the Scottish Baronial style, the venue has been transformed by acclaimed New York architects and designers Grzywinski+Pons to reflect the city's culture, taking inspiration from its industrial past and progressive present. The team has combined elements of lux in interiors, textiles and colourways with the use of sage, taupe's, apricots and terracotta, complimented by dark tones to reflect the Manchester sky resulting in the feel of noir luxury.
"Responding to the changing trends of today's traveller, each suite or studio is designed to revolve around Locke's designer living spaces, allowing guests to surround themselves in space and comfort. The result is a modern take on the designer aspirational second home with bespoke bathrooms and fully-fitted kitchens, ideal for short and longer stays."
Eric Jafari, Locke's Co-Founder and Creative Director adds, "Whitworth Locke encompasses our ambitions and is demonstrative of the brand's future. This is a very special project for us.
"We know modern travellers increasingly value their social experiences and personal connections. We've created a space where people can truly feel at home. From our perspective, a second home is more than the four walls, it's defined by a combination of your community and ability to maintain your daily habits."
The Manchester New Square sales team will certainly be changing their habits and popping in on a regular basis. Our buyers will benefit too from additional investment in this already beautiful and historic corner of Manchester and we're looking forward to sampling the cocktail and restaurant menus very soon.
Further information: @Lockehotels www.lockeliving.com