Set Sail to the Grand Pacific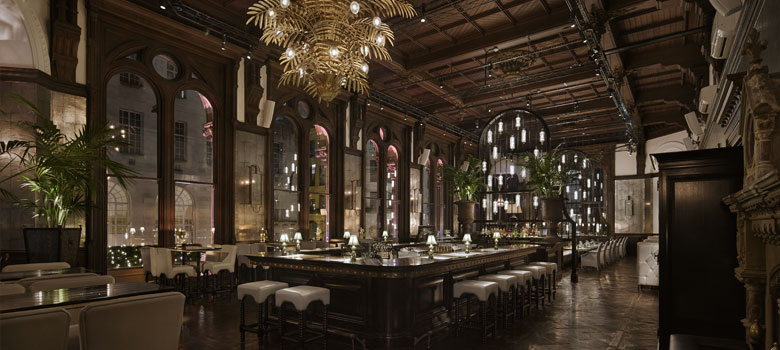 Vibrant and cosmopolitan, Mancunions and the city's 61 million annual visitors, are spoilt for choice when it comes to eating and drinking out. New bars and restaurants are constantly popping up all over the city but one of the most anticipated new arrivals is the stunning Grand Pacific bar and restaurant on King Street.
Once home to the infamous Liberal Reform Club, this was a gentlemen's club for the Liberal Party Elite of Manchester and it is interesting to see how the new venue pays homage to its history. Jeremy Roberts, CEO of Living Ventures Group and mastermind behind Grand Pacific, provides a glimpse into his vision for their new venture.

What was your inspiration and vision for Grand Pacific?
"The inspiration came from the building itself. It was designed as a place of hospitality i.e. a club, unlike most other buildings of this era that have been converted from banks or other financial institutions. We wanted to bring it back to its former and original glory as a place where people relaxed and enjoyed themselves first and foremost. We have borrowed inspiration from grand hotels such as Raffles in Dubai to define that theme.
"Our vision was to create a place where hospitality shines through. A place where people simply want to spend time – day or evening! It offers an oasis, a bit of an escape from the normal offering".
Since opening, what cocktails or dishes are proving the most popular?
"It is early days but crispy sea bass and the massaman curry look set to be classics of the menu. The signature Grand Pineapple and the mysterious Wax Seal are fast becoming firm favourites from the cocktail menu."
Jeremy adds, "people want authenticity and I think we have achieved that". This idea captures Grand Pacific at its very core, pointing to the incredible synergy between exotic and classical influences.
There's plenty to experience at Grand Pacific – decadent cocktails with an after hours atmosphere; high tea with a Pacific twist; or an exotic food menu which takes inspiration from colonial and Asian cuisines. Just a short stroll from Manchester New Square, the venue looks set to become a contender within the city's thriving foodie scene for many years to come. For a further glimpse into life here visit their Instagram page and Twitter feed but for the full experience be sure to go along and visit for yourself.