Refuge – On Your Doorstep!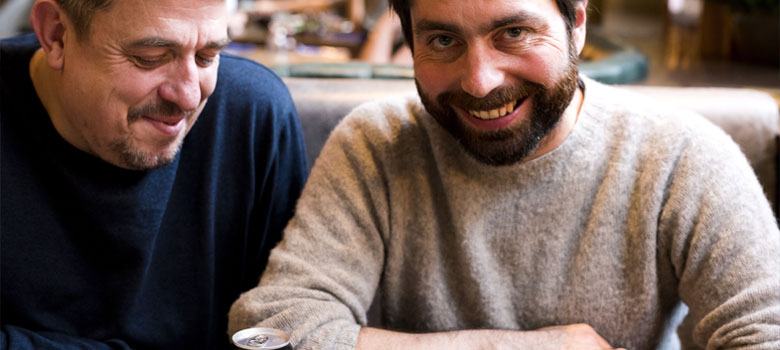 Often ahead of the curve, new eateries and venues in Manchester constantly push the boundaries. This is a city that oozes diversity, almost normalising and downplaying the exciting and unconventional. 
The Refuge by Volta has ignited a synergy between two seemingly very different parties and entwined them to create a perfect, albeit unexpected bond. The Refuge is across the road from Oxford road train station and (very conveniently) just minutes away from Manchester New Square. 
DJs turned restauranteurs Justin Crawford and Luke Cowdrey started out in the Manchester music industry as the Unabombers, before opening their first restaurant in Didsbury – Volta. They then joined force with The Principle hotel and The Refuge was born. We had a chat with the pair to find out a bit more about the ideas and inspiration behind The Refuge. 
First of all congratulations! The Refuge seems to have really been very successful in its first 6 months or so in Manchester. Your partnership with The Principle Manchester has proved a fantastic one but perhaps a little unlikely? Were you excited to be working together? 
Having operated for 25 years in the back streets –  off piste –  it's been a welcome addition to up our game with such a big project, an unlikely marriage and one that has so far been positive and enjoyable. The yin and yang of our relationship is wonderful, we know this street like the back of our hand, having both met here 32 years ago when students at Manchester Polytechnic, hanging out in the Cornerhouse watching subtitled Russian B movies. 
Your menu is inspired by your travels. Are there any particular countries/flavours/ingredients that you were keen to bring to life through the menu? Are there any moments or stories from your travels that inspired the dishes?
I guess the journey could be taken back to Cal Pep in Barcelona in 1991, where I experienced the delights of the Catalan culture and cuisine. Here informal casual eating was about sleeves rolled up, the best products, locally sourced with the hustle and bustle of people loving food. DJing took us further afield and increased our knowledge of food, hospitality and drink, the all-day dining, come as you are approach came from our extended trips to Australia, where we love their hospitality vibes. Food wise the Mediterranean, including the outer edges of North Africa and Persia helped shaped our global approach to sharing food family style.
The venue is a remarkable size. Was this overwhelming to work with initially and did it pose any challenges?
We love the opulence and the grandeur of The Refuge and for us, democratising the space to have a "come as you are" feel with casual dining, as opposed to fine dining, with a varied menu that incorporates local craft ale, were fundamental to making to this space accessible and not stuffy. This isn't a hotel space, this is a public space.
Does The Refuge pay homage to your first restaurant Volta? 
Yes, it is a continuation of our no nonsense and relaxed approach to dining. The three course sequenced, starter then main then desert with white linen and French waiters constantly over filling wine glasses, was never part of our vision. We love the relaxed hanging out with friends and sharing with friends vision that inspired Volta in the first place
If you had to sum up The Refuge in three words what would they be? 
We need four – 'Come As You Are'!