City Living – Urbanite James Provides A Unique Insight Into A Very Special Corner Of Manchester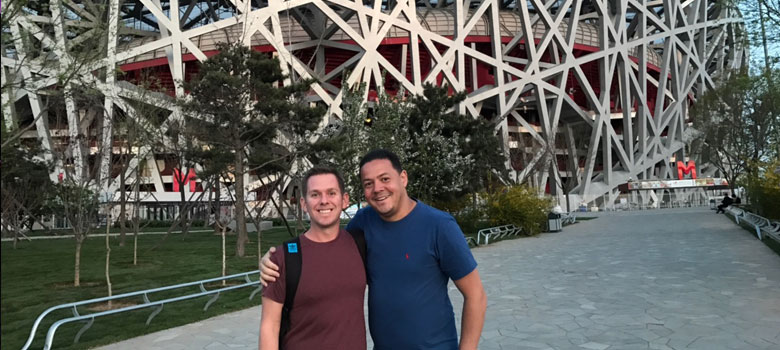 Over the last few decades, Britain has seen a return to urban living and Manchester has been at the forefront of this socio-economic trend. Between 2001 and 2011, its city centre residents increased by 20,000 (83%) and around 7,000 new homes were built and sold in the city centre during this time.
Nearly 60% of these new residents had a degree and the majority were aged under 35. Between 1998 and 2011 jobs in the private sector grew by 44% and Manchester's economy grew to £16.8 billion in the twelve months to Q4 2016.
So what is it like to have lived in the Whitworth Street area of Manchester for almost twenty years and what attracts people to city life? We caught up with local resident and intrepid traveller James who lives in Venice Court, opposite Manchester New Square….
How long have you lived in this area?
It's (frighteningly) fast approaching two decades.
What first attracted you to this corner of Manchester?
Thinking back to 1998, being within crawling distance of Canal Street was probably a bigger factor than I'd like to admit.
What are the best aspects of living here?
Manchester has all the amenities of a big international city but the city centre is surprisingly compact. So everything is within easy walking distance.
Best places for dining out, drinks and coffee?
The breakfasts at Chez and Moose both help get me out of bed and the Portico Library is a stunning place to relax with a coffee.
Current regular places to eat out include Try Thai, Rudy's and (having a Brazilian partner) Bem Brasil. Having Changos just around the corner is ideal when I'm feeling too lazy to cook.
The closest I have to 'a local' is The Molly House but, when the sun is shining, the beer garden at Rain Bar is a great spot.
Where do you work?
I work in Cheshire and need my car for work, so living on the south side of the city centre really helps with the commute. Having Piccadilly station just down the road is a massive benefit. I can be sat at home 2 hours and 20 minutes after leaving London. Trains to the airport are frequent, quick and run nearly around the clock. I arrived back from China over the Easter weekend and had a choice of three trains leaving the airport within 15 minutes. So, from passport control to home in under 30 minutes.
My partner works in Salford Quays so he can just walk to St Peter's Square and get the tram straight to his office. The whole journey takes him around 20 minutes. Manchester even has free buses that go around the city centre, which can be helpful, especially on the odd occasion it rains.
How do you spend your weekends? 
HOME literally is my second home and is great for theatre, exhibitions, cinema, food or just drinks. The Royal Exchange and Studio has consistently fantastic productions and I also love Hope Mill, Contact and (the very quirky) Three Minute theatres.
When friends are visiting, the Museum of Science and Industry is normally the first place I take them. It's an amazing place and gives a wonderful insight into Manchester's industrial past.
Is there a sense of community here? 
My neighbours have included a barrister, pub landlord, train driver and nurse. So it's definitely a diverse (but congenial) bunch who like to call Manchester city centre home. When I first moved to the city centre, the residents were mainly 'twentysomethings' but there are now all ages, including retirees wanting to live in the thick of the action. Having Manchester University's beautiful Sackville Street building just across the road, my neighbours come from across the globe. The city centre as a whole is incredibly cosmopolitan. My partner moved over from Brazil a decade ago and he has a big group of Brazilian friends and loves that Manchester is such an international but friendly city.