Chez – Home Cooking and Friendly Service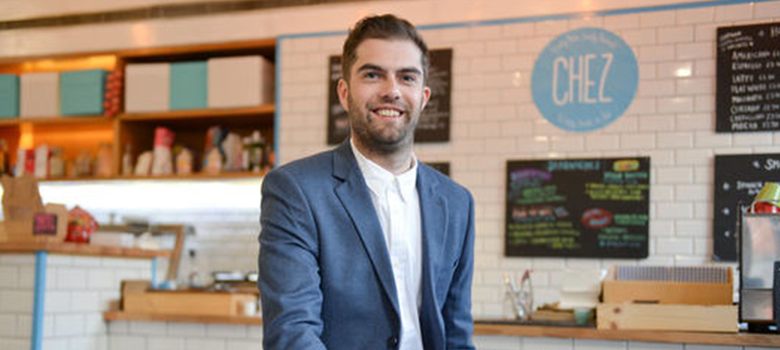 Manchester's food scene is an ever changing and exciting melting pot of quality, menus, cultures, style and price points. Whatever your stomach so desires, Manchester can generally come up trumps. And if sustainable, locally sourced food, served with a smile for under a tenner, ticks your boxes, welcome to Chez.
We sat down with owner Michael Jebelli to find out where this neighbourhood home from home began….
How long has Chez been open?
We opened at the end of April 2016. It really has flown by – I need to stop telling people we're new!
What is your background? 
I have worked in hospitality all of my life. My parents ran a restaurant and I was helping out from the age of 5. In my adult life, I have worked in high-end hotels between Manchester & London, working my way up from a Bartender to Food & Beverage Manager and eventually Hotel Ops Manager.
I have always had the desire to run my own business and a few years ago tried crowdfunding for a restaurant concept, but didn't raise quite enough capital. When I saw this corner site on Whitworth Street become available, I thought this is something we can do on a relatively small budget and Chez was born.
Why Chez?
Our key principles are sustainable, locally sourced food, which is delivered in fresh and prepared on site. Chez loosely translates to home, which has multiple connotations – homegrown and homemade in a relaxed, homely environment.
Sustainability and provenance is so important and more and more people are coming to this realisation and being more careful with purchasing decisions. We showcase some absolutely fantastic local produce – Meats, Dairy, Eggs, Breads, Beers – there's so many great products from the area, it would be a shame to look further afield.
What's on the menu?
Our breakfast offering is very popular – we've got some great traditional options because let's be honest, anywhere that has all the components of a Full English on their menu but won't serve you a fry up, is a bit up their own arse. But for those who are a bit more adventurous, we do a mean baked eggs with mushrooms truffle oil, avo toast, vegan fry ups and a really good cinnamon and berry granola.
When it comes to lunch, a lot of our customers want something fast that they can either take with them back to the office, or go and eat in the park across the road, so we've designed the menu with this in mind. Grilled Halloumi Salad or a Chicken Hot Box with Salsa Verde are proving popular at the moment, along with the Sweet Potato and Chick Pea Curry with Baby Poppadoms.
How often do you change the menu?
The Menu changes every couple of months, depending on what's seasonal (we were crippled recently by the spinach shortage – I know first world problems!). Chef and I have spent the morning experimenting with an Asparagus Benedict, so that will feature on the menu for the next couple of months
Specials change every day and we're always open to adding new dishes based on demand.
Who are your customers?
We've a real mix, which makes our days all the more interesting! We have some super regulars who have been very loyal to the Chez brand since we opened. During the week, it is mostly the office folk who come in and at weekends we get a lot of local residents having a hangover afternoon brekkie. We also get a lot of tourists as well – Free Manchester Walking Tours leaves from Sackville Gardens across the way from us, so they will often come in for sustenance before walking the city.
What next for Chez?
Our menu has doubled in size since opening and I'm really proud of what we do, but we need to keep pushing ourselves. Otherwise it just becomes boring for us and boring for our customers. I do believe people like change, they like to try new options and nobody really wants to be a creature of habit.
In terms of growth, I'd be lying if I said I didn't feel there was room for another Chez in Manchester, but obviously it has to be when the time and location is right.
How do you feel about the development of Manchester New Square?
I think it will be really important in resurrecting a part of town that is starting to need the love. I don't think many Mancunians would disagree that this has been a long time coming. I can't honestly remember the site not being a building site.
What is special about this corner of Manchester?
I love the diversity of this part of Manchester. Sandwiched between Piccadilly and Oxford Rd Stations, we are surrounded by offices and apartments and sit on the edge of the Village, the Universities and China town. The abundance of hotels in the area provides a slightly touristy feel.
What's also really nice is the neighbourhood feel that exists, lots of familiar faces and local 'celebrities'. We're in the heart of the city but sometimes it feels like we're in a hamlet. I really do think we help to add to that kind of an environment. We've created a really warm and friendly place that means our customers keep coming back. Someone coined the phrase 'Friends of Chez' – It's cheesy as hell, but it really does make sense.
We're not a 5 Star Hotel and we are by no means a 3 Rosette Restaurant, but the key principles of hospitality remain the same – we're a friendly place to come in, have a chat, enjoy a great cup of coffee with some fantastic, fresh local food – and walk away with change from your tenner.
Chez can be found at 36 Whitworth Street and is open Mon-Fri 7.30-17.30 and weekends 9-15.00 hrs.
@chezmcr